The GreenBroz 215 Dry Trimmer
Gentle. Quick. Quiet
The GreenBroz 215 Dry Trimmer is designed to closely mimic the act of hand trimming your harvest while increasing the consistency and efficiency of your harvest process.
While the 215 Dry Trimmer is primarily designed to be gentle and quiet, the 2-4 pounds per hour capacity allows you to trim your flower as quick as anyone in the game.
Our patented blade design allows for the gentle rolling of the flower maintaining the natural curves and preserving the cannabinoid profile.
Whisper if you want or play music while you harvest. No vacuums or large attachments needed.
Turn your perfectly preserved trim from our GreenBroz Dry Trimmers into further profit in an instant with the Alchemist 215!
Trim Gently
Patented Blade Design
Our patented blade design encourages a gentle trimming process for your harvest, preserving purity, potency, and the beautiful shape of your flower. You spend months cultivating your product, so we built our trimmers to be gentle on your flower above all else.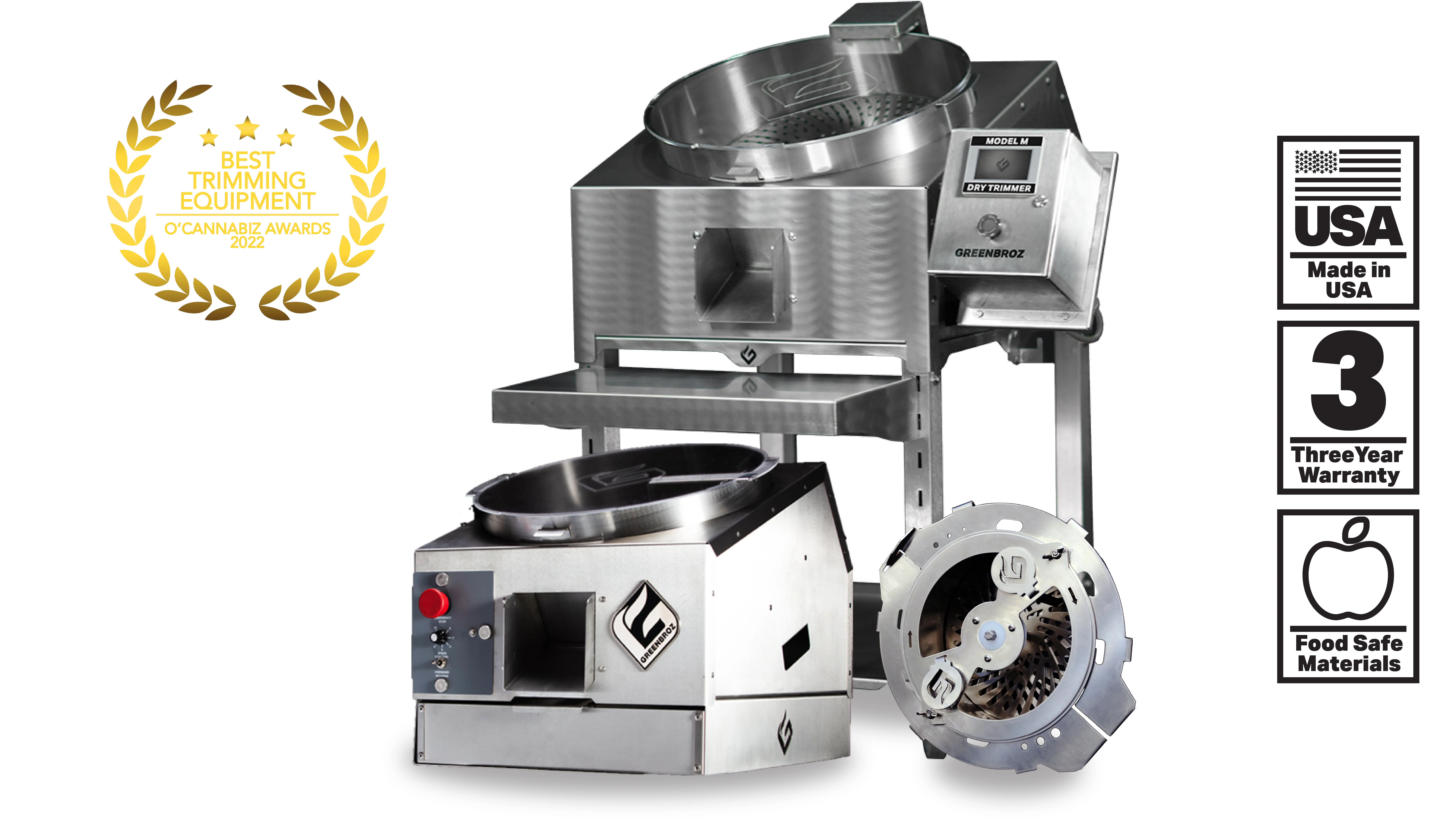 Quick Results
2-4 Pounds Per Hour
While our primary objective is to be gentle on your flower, our dry trimmers can trim quickly as well, allowing you to manicure 2-4 pounds per hour while controlling the entire process through our responsive design, ensuring you achieve your desired finish every time.
Quiet Operation
Enjoy Your Trimming Experience
Whisper if you want or play music while you harvest. Our 215 Dry Trimmer's 25-watt conveyor motor produces minimal noise so you can direct your employees, make business calls, or simply spend some quiet time with your buds.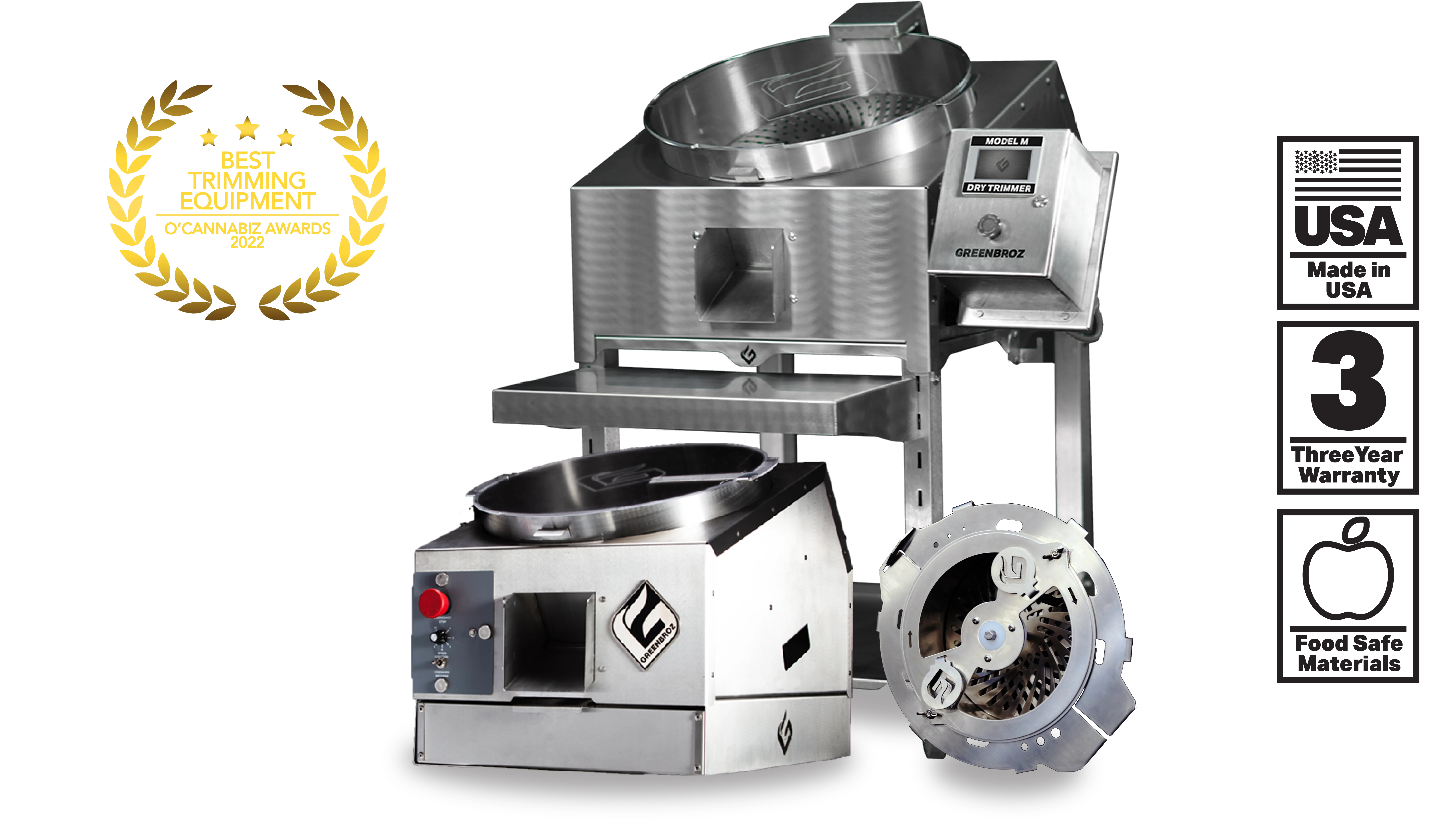 Made In America
Assembled by Hand
We are Veteran owned, committed to fine American craftsmanship, top of the line machine engineering, and exceptional customer service. We're extremely proud to say that our machines are made in the USA. We pride ourselves on stimulating our local economy, hiring Veterans whenever possible, and constantly working to provide industry-leading harvesting equipment to America's next great industry.
This product can be found at greenbroz.com.
Tis the season of eating, drinking and being merry and we have everything you need for the most delicious cocktail recipes brought to you by Greenbar Distillery.
Located in downtown Los Angeles, Greenbar Distillery is LA's first since the prohibition and the first craft distillery in the U.S. At the root of these amazing spirits….? A love story.
It's no mistake that radiating hearts are on every bottle and embedded intp the Greenbar logo. Founders, Melkon Khosrovian and Litty Mathew (now married) met in graduate journalism school and had no idea that making spirits and opening a distillery would be in their future. When the couple became engaged, they would go to family functions and drink after celebratory toasts from their loved ones, however, Liddy didn't engage in the toasting festivities; she was turned off with the taste of alcohol, which to her, tasted like nail polish remover. Determined to have his bride-to-be happily partake in the toasting festivities with friends and family, Melkon went to the local Farmer's Markets and bought fresh ingredients to infuse the alcohol with. He was used to watching Litty cook, layering ingredients and adding flavors in order to turn them into delicious meals (something she learned while going to culinary school in France). Inspired, he imitated her art in his spirit infusions by bringing fresh aromas and flavors to life in the alcohol. When he perfected his concoctions, the couple would bring them to family and friend's houses for parties and gatherings and soon enough, everyone wanted a bottle (or two) of their delicious alcohol. When Litty and Melkon eventually had friends, family, and many friends of friends calling, asking for a bottle of their spirits, they decided, hand in hand, to take a leap and dive in to the distillery business head first.
The love and passion of Greenbar Distillery radiates from everything- the distillery, the branding, the spirits… and because they only infuse with organic ingredients, the taste is fresh, natural and light. The range of sprits include vodka, whiskey, rum, tequila (distilled in Jalisco, Mexico), liqueur, and two amari.
During the tour, I was lucky enough to get to sample almost all of the different spirits Greenbar had to offer. The favorites were the IXÀTequila Añejo which is distilled in Jalisco, Mexico- basically the Mecca of all the world's tequila- and the Slow Hand Six Woods Whiskey (which gets its name from being the only whiskey in the world that uses 6 different types of wood for flavor). Both, the tequila and whiskey, are smooth on the pallet and all around delicious.
For more flavor and creativity, Greenbar Distillery also has a small selection of liqueurs and amari (which I had never tried before going to Greenbar). The liqueurs mix perfectly with the spirit infusions and include blood orange (it puts a twist on the Old Fashioned cocktail), hibiscus, ginger, and (my personal favorite) Fruitlab Jasmine – made with black and green tea, citrus and pure jasmine nectar. Again, these liqueurs are all made with fresh, organic, and intentional ingredients; gone are the days of cotton candy and whip cream (artificial) flavoring resulting in the world's worst hangover! Along with the liqueurs, Greenbar also has 2 Amari liqueurs to sip on after a lovely meal. Amaro is an Italian word that means "bitter". It is an herb-infused liqueur that is traditionally infused with grape brandy and a mixture of different herbs and aromatics. The bitter brew is sweetened, aged, and then finishes as a liqueur with about 16-35% alcohol. Although there is flexibility-and creativity- in mixing the delicious assortment of herbs and aromatics into different types of spirits, Amaro is truly meant to be sipped and savored.
Now, just when you think Greenbar Distillery couldn't possibly get any better- with the adorable branding, delicious range of spirits and liqueurs, the pure ingredients that are backed with integrity and intention, and the blossoming from a love story – it does! In addition to everything I just mentioned, Greenbar Distillery takes pride in sustainability and stands with Mother Earth (so much of what we need these days)! Their certitfed organic ingredients help to maintain clean farmland and groundwater and their packaging is made with lightweight (glass) bottles and 100% post consume waste recycled labels (sans plastic and metallic paints). To top it all off, Greenbar Distillery plants one tree for every bottle sold. Since 2008, they, along with Sustainable Harvest International, have planted more than 800,000 trees! Greenbar wanted to plant and partner with Sustainable Harvest International because they are a non-proft that provides help and support through education and resources to rural communities. Taken from the Greenbar Distillery website:"[If you] drink a standard 4oz cocktails made with 1.5 oz of Greenbar Distillery spirits, you'll be carbon negative for the day.On average Americans produce 45.2 kilograms (kgs) of carbon dioxide every day. That's our carbon footprint…one of the largest in the world. By being efficient and careful in the manufacturing process and planting one tree per bottle sold, 1.5 ounces of any Greenbar Distillery organic spirits — about what's in a typical cocktail — helps remove 46.6 kgs of carbon dioxide from the atmosphere. Your organic Greenbar Distillery cocktail just made you carbon negative for a day!
You (45.2 kg) minus your cocktail (-46.6 kg) equals carbon negative (-1.4 kg). Let's drink to a better world. Arriving at the math required experts and time, but the results are simple: By making small changes, we can make a big difference in the environment."
Wow, there truly is nothing better than a company that has purpose and passion for what they do and for the world around them, I think that is something we can all raise a glass to.